Anyone who searches out their own, will most likely encounter the Sterling AR-180. With three times the production of either the Costa Mesa or Howa guns, this makes perfect sense.
However, there are three distinct finishes that were produced. Parkerized, Blued, and Painted.
The subject of todays post is the painted variety. This finish is also known as Stoving.
My research indicates that this finish was done to the vast majority of the guns from the beginning of production ,S15001, to approximately S20000. This gun is actually the latest serial that I have found featuring the stove finish. S19827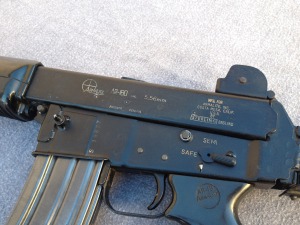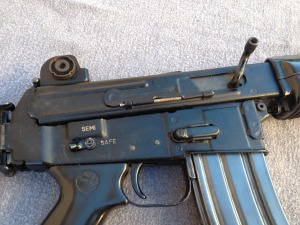 It is unfortunate that many of the Sterling guns with this finish will show many scratches and handling marks as the stove finish does not hold up well to abuse. To the collector condition is everything. Finding a clean example of a painted Sterling can take some doing, or in my case, a little luck.
I purchased this example from gunbroker mainly for the accessories that came with it. The pictures were horrible and I was sure it was going to look like all the other low grade examples. I was looking for a truck gun and was pleasantly surprised to find it was in very good shape. It has some markings from a scope being mounted but is in otherwise fine shape. It has been fired and will make a great range gun. The search for a truck gun continues.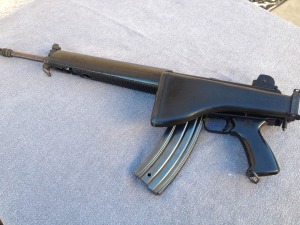 This gun did however, come with a broken lower hand guard. I was fortunate that one was available, although the price would probably scare you.
While AR-180 collecting is not for the faint of heart, it is surly less expensive than Colt Python collecting. I did that for awhile but I just can't justify paying the prices anymore. I also think that they are vastly overpriced considering that over 150,000 were produced over 50 years. Contrast that with just over 20,000 AR-180's produced in the span of 16 years. Several thousand of which were never brought into the country or were exported after the fact.
Rick