As luck would have it, after writing the article about The First 1000 Howa AR-180 I came across one and it has now joined the collection. Special thanks goes to one of my readers (you know who you are) that stayed out of the fray and let me take a run at it. I certainly could not have competed against him for this rifle.
Other than sling swivels and original Howa magazines, this Howa AR-180 is complete. Condition leaves a lot to be desired for many. For me it is perfect. Everything rattles and is loose. There is a slight hint of rust in a few places. It has "Patina". I love it. Best of all, I can shoot it and have fun with it.
In addition to having one to help round out my collection, I wanted it because I was curious about the differences between these rifles and later versions.
This is the picture that first caught my eye.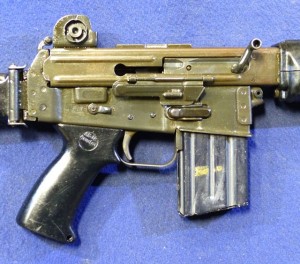 If you look closely you will notice a difference in the bolt carrier compared to any others that I know of.
Here is the bolt carrier next to the one from my early Costa Mesa rifle. (The one shown on the splash screen at the top of page and in your emails from me)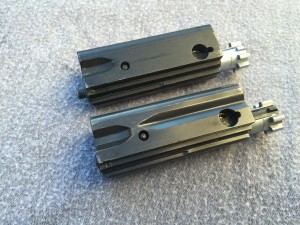 Both of these early 180 bolt carries started life as AR-18 carriers but there are differences. The most striking and the reason I wanted this example, was the extra machined cutout on the right side of the carrier.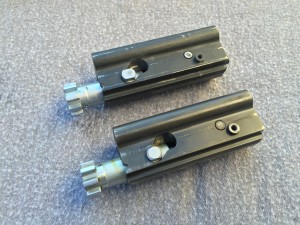 The left sides are very similar with only a few distinctions. A radius on the cam pin and the quality of the machine work, with the Howa coming out on top.
The firing pins differ as well. The early Costa Mesa using an AR-18 firing pin and the Howa using what I think is a modified AR-18 pin.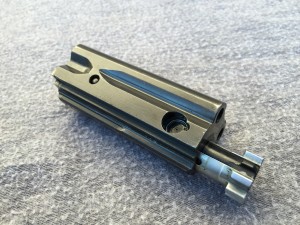 This is just one of the unique features of these fine weapons. Stay tuned for more in-depth articles soon.
Now some more pics for you, the Early Howa and the Early Costa Mesa.