The AR-180B Shorty Project is really coming out well. I am more than pleased.
I thought I should catch you up on the last couple of items I have been working on.
First, the box/crate that I built has had a lot of interest and I think I will build a few more for different guns and see if I can sell a few.
I got my stencils in from a cool cat over at SteelSoldiers.com and had a go at the box. He does them mainly for military vehicles but he will do custom work like he did for me. I'm not sure if you need to register to get a hold him but if you want to buy some, shoot me an email and I will pass along his contact info.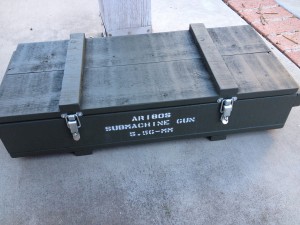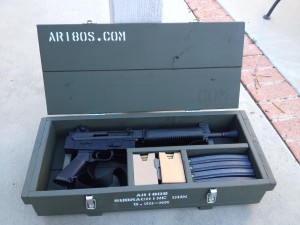 Secondly I traded for this Armalite A1 style grip that has a sling swivel. It is absolutely perfect for this gun, in my humble opinion. I believe these were made right after Eagle Arms bought the Armalite name and started making their own grips. This didn't last long as they quickly found out they could get them cheaper from an outside supplier.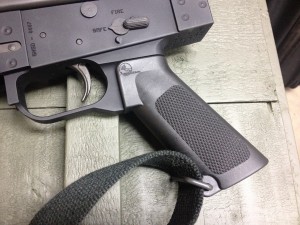 I also made a prototype flash hider out of aluminum to match a blown up picture of the first AR-18 Carbine serial number 1. It turned (pun intended) out very nice so I shot it with some Rust-Oleum Dark Gray Primer. This stuff is fantastic and it ends up looking like parkerizing when dry.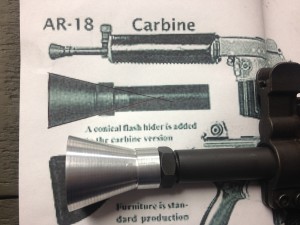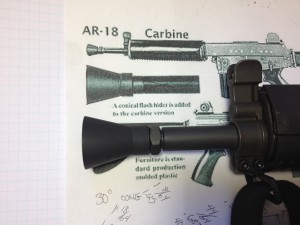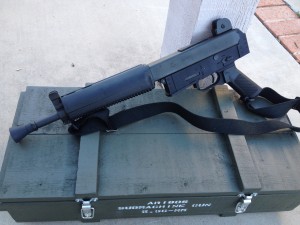 Here she is ready for another trip to the range.