Well there was what was described as an AR-18 parts kit for sale on gunbroker. When I first saw it the seller had an F rating. The description also mentioned that the parts were in Europe.
I still am confused about what part of the AR-18 actually is the "Machine Gun". The parts kits that Numrich sold some years back were first sold with the uppers cut and the lowers intact, not unlike the current SAR-80 kits. The ATF changed their minds and had Numrich recall them to cut the lowers up.
I invite your comments and speculation about whether an AR-18 upper is legal to own or if it could be imported into the country?
I saved the sole picture from the auction so after it goes away this post will still have some value.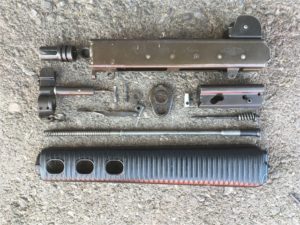 Buy it now price was $995 and the auction was ended early. Who knows what happened behind the scenes?