Plenty of AR-180 action at SAR West this year.
I saw 5 Sterlings and a Costa Mesa, all over priced and I'm sure the dealers took them back home.
I looked over an early Howa on Saturday morning but wasn't prepared to spend that much money. (I had to sell something first)
Turns out good friend on the site Tommy snagged it along with a Hybrid scope, Colt scope with an Armalite base. He brought it by for me to look at and take some pics. Serial number S000045. The earliest one I have seen.
There are far too many of these hybrid scopes for them not to have come from the factory like this.
The furniture had been painted but Tommy reported back that a few hours with paint remover brought it back to it's former glory.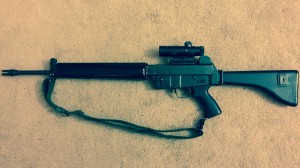 I was able to pick up a stripped Costa Mesa lower and an AR-15 barrel that had been sort of converted to work on an AR-180. Another project in the making. It's an early three digit receiver and a C MP C barrel that has had the shoulder turned back to line up the gas port. I think I might turn this one into a more accurate AR-18S Clone. Of course this project is not going anywhere till I get the internal parts. The search continues.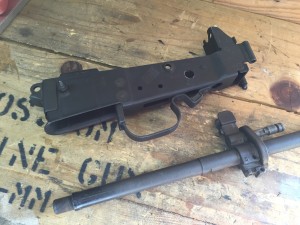 Oh and a new scope to add to the collection. A second gen, inverted post, marked in yards with serial number 712116. A pretty high number.
I was also given access to another Hard Times Armory full auto conversion from the guys at AZFirearms.com and I was able to open it up and take some pictures of the inner workings. There will be a full article on this one forth coming. Special thanks to those guys for allowing me the access.
I also picked up a very few flats from Chuck. Now the question is, how to bend them properly.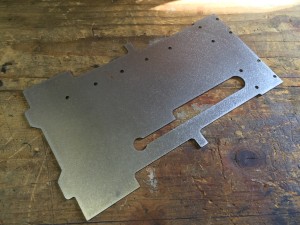 I also did a lot of horse trading and came home with a couple project revolvers. Before 180s I was a die hard Colt Double Action man. I guess I still am in many ways.