I was alerted to this interesting full auto AR-180 conversion by a reader and I contacted the seller to get more information. I had assumed that all conversions used the same system as the AR-18 but my research shows that there are many different ways to get the job done.
This particular gun also brings to light the crazy gun laws that we have to deal with and in particular those surrounding full auto guns in Connecticut.
First lets see how an AR-18 worked.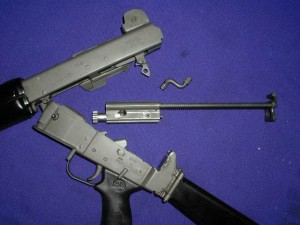 You can see in this picture that the upper receiver has two tabs that retain the auto sear. A link is attached to the sear that rides along the bottom of the upper and is tripped by the bolt carrier. The sear acts upon the rear of the hammer. The hammer is different than the one used on an AR-180 as is the disconnector, bolt carrier, and firing pin.
This conversion goes about it in a completely different way.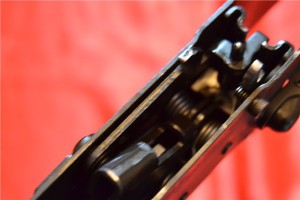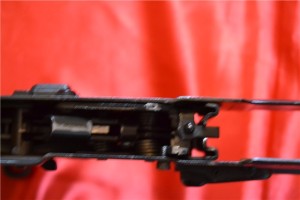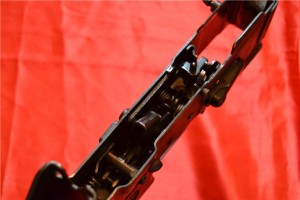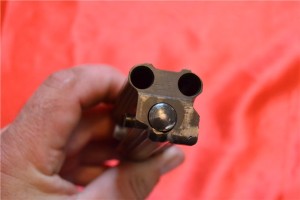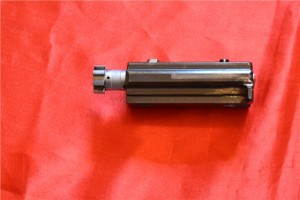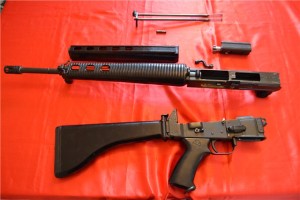 This conversion is on a Howa AR-180 and it has a sear that acts on the front of the hammer. It appears to have a pivot added to the front of the fire control box and you can just make out the pin location in the picture above. The sear has a tail that is tripped by a piece that was welded on to the bolt carrier. It uses all the original 180 fire control parts with the exception of the disconnector and the safety. The 180 firing pin is also retained.
I wonder if this is how the Widowmaker conversions were done?
Now for the Connecticut twist on this story. It appears that those who drafted their assault weapons ban tried to get machine guns classified as assault weapons and in doing so, left the door open for guns that are full auto only. You can't own a registered select fire weapon (one that fires Safe/Semi/Full) but you can have a papaered Full auto machine gun (Safe/Full). This gun is one such animal. For those that live in other states, it can be converted back to a select fire configuration.
Please feel free to comment about any conversions you have come across. I think this is a very cool part of the history of the AR-180.