Josh at Stormwerkz.com just posted on Instagram that his Type 2 AR180B stock adapters are back in stock.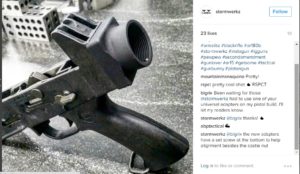 He has also improved them with the addition of a set screw to locate the receiver extension. That will be very helpful as getting the butt stock lined up when tightening the castle nut was a pain.
Check out these adapters as well as lots of other cool stuff on his website. Click here.
These are a perfect addition to the Nodak NDS-18S lower and if you install a pistol tube first, you can always build your gun as a pistol at a future date. Even if you build it as a rifle now. I don't make the rules, I just follow them.
I have a few Lower Parts Kits left in stock with no plans to do a second batch in the near future. Now might be your last opportunity for quite some time. Shoot me an email at Rick@AR180S.com to order. $125 shipped, PayPal slightly higher.