I was invited by some of my students to join them at the 2-Gun Action Challenge. For those unfamiliar with  2-Gun it is basically a great way to test yourself and your equipment in a dynamic environment. The two guns you need are a pistol and a rifle. I chose a Python and my Shorty 180. I wasn't planning to win or even be competitive. I just wanted join my friends and do a little run and gun. Lots of both were to be had along with some ducking and crawling to boot. Turns out it was a Vietnam themed event this time and had I been more prepared I might have done ok. The pistol stage for example was limited to 5 rounds. Revolvers could have been competitive in more practiced hands than mine.  I was using an old school police rig with dump pouches. Speed loaders or even speed strips would have been a welcome addition.
It was my first time and even though I did badly and my shorty had malfunctions, I had a great time. I shot the Irons category and chose to use the small aperture as I felt it would be more accurate. The distances were too close and I found that was a bad idea. I switched to the large aperture on the next stage and it was at distance. Another bad idea. The shorty was barely able to get two or three shots in a row before it would short stroke. I brought a back up gun but decided to be stubborn and stick with my shorty till the end. As a result I timed out on every stage but almost cleared the last stage, one shot shy. Thinking that I needed to open up the gas port I decided to do an autopsy on it today. As I was stripping it down I noticed that the op rod was way too far recessed into the trunion. Turns out the front sight base was too far forward. Not only did that cause increased travel of the op rod, it covered up part of the gas port. I'm surprised it ran at all. Either I didn't tighten it enough and it moved forward as it was fired or I didn't get it in the proper place when I put it back together last time. I've been taking it apart a lot lately to take measurements as I have been building my AR180S clone.
I think I am hooked and I am looking forward to next months match. I might keep running the Python and pick up some speed loaders and pouches. I need some sort of mag holder for my rifle mags and I will be ready to go.
I also picked up a universal folding mechanism from Josh at Stormwerkz.com. I used it to fold the pistol brace on my 180B pistol. I'm liking it so far just handling it around the house. Time will tell how it works in the real world. I think I will make it my back up gun at the next 2-Gun.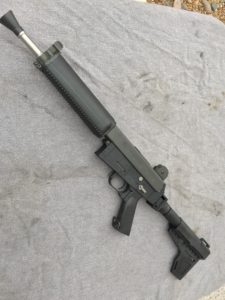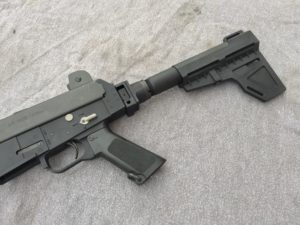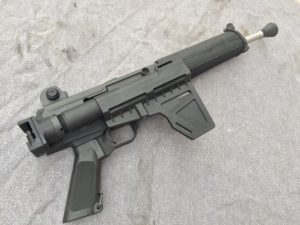 One last update. I have purchased a limited quantity of original AR180B fire control pins. This has always been a problem for those of us building a Nodak NDS-18S lower from scratch. $20 a pair so shoot me an email at rick@ar180s.com if you are interested in picking some up. Get an extra set for spares!