Many weapons can trace their lineage back to the AR-180. Some of this is somewhat convoluted and hard to follow. Such is not the case with the Australian Automatic Arms series of guns.
The story starts with Charles St. George and Leader Dynamics. In the late 70's St. George along with his partners, started Leader Dynamics and manufactured among others, the T2 MkV.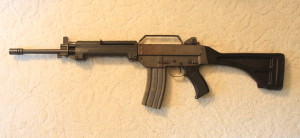 This gun bears a striking resemblance to the AR-180 both inside and out. Charles St. George even says he was largely influenced by the AR-180 in this interview from Ian at Forgotten Weapons.
The company was dissolved and the rights to to produce these guns was sold to Australian Automatic Arms in Tasmania. Some minor modifications were made and production commenced.
Unfortunately, the timing could not have been worse as the Assault Weapons Ban stopped importation in 1993. It has been reported that the Australian government shut down and closed the plant shortly after that.
Only about 700 of these particular SAP pistols were ever let into the country.
This pistol in particular happened to call out from me from a table at my local gun show a few weeks back. She came home with me.
One improvement I particularly like it that the self contained bolt carrier/guide rod assembly. I makes field striping that much easier and you can't loose any springs!
One interesting thing about this design that is not readily apparent, the gas system is offset to the right to make room for the charging handle. You can clearly see this in the picture of the bolt carrier group.
I will be bringing you more information on this gun and how it compares to our beloved AR-180 soon. For now,enjoy the pics.