Just picked this little ArmaLite AR-7 up yesterday and like everything I buy, I have to immediately learn everything about it.
Just like when I got my first AR-180, I find there is not much info to be had. That's exactly what led me to start this sight. To put all the info in one place.
I took a few pictures and I am reaching out to you, my readers to help me fill in the blanks. I'm trying to find out when it was made and there is no database of serial numbers like others may have. The closest I have been able to come is the parts list indicates that California residents have to pay 4% sales tax. A little research reveals that only was true from 1962 to 1967. How cool would it be if this thing was made in my birth year, 1965.
What I know so far;
ArmaLite made these from 1959 to 1973.
The first models had brown stocks and butt pads.
The earliest models had serial numbers that were covered up when the stock was installed.
The second versions had swirled, multi colored stocks like mine.
I'm not sure if ArmaLite made the stocks in black before selling to Charter Arms in 1973.
Some stuff I ran across on the net (unverified);
Brown stock models started with serial 50,000
Swirled stock models started with serial 70,000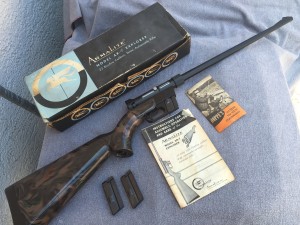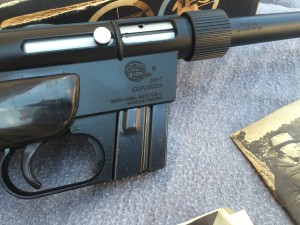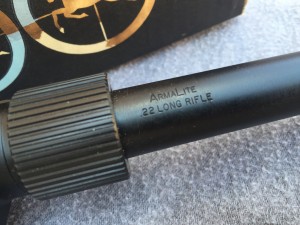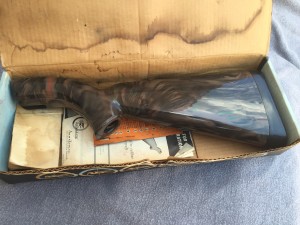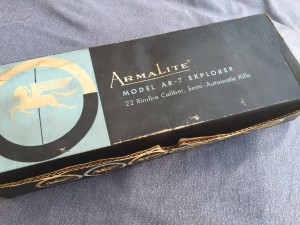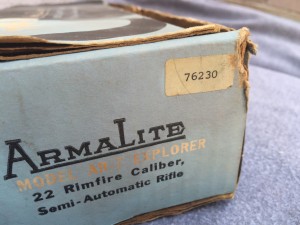 I don't see any reason that we can't put together our own database of serial numbers with the features they include.
I would want to include things such as serial number and location, stock type, roll mark on receiver and the roll mark on the barrel.
If you have any information to contribute, I would appreciate it as well as the rest of my readership.
I found this awesome early model in a forum post here